Airborne Engineers Association
Roll of Honour
George Barrett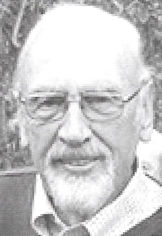 George Barrett, of Nelson, BC, died on Monday, August 25, 2014 at the age of 89. Born in Blackburn, Lancashire, to Fred and Elizabeth Barrett, George was an athletic adventurer, with a passion for cricket and soccer, having played for the Blackburn Rovers Youth team.
At age 18 George volunteered for the aircrew in World War II. His skills placed him with the Royal Engineers, in the 9th Squadron of the British Airborne Forces. He served as a paratrooper, dropped behind enemy lines to secure footholds from within.
His assignments included the Liberation of Norway (May 8th, 1945) and stations in both Egypt and Palestine, where he was involved in rescue efforts after the bombing of the King David Hotel in Jerusalem. His brother, Joseph, was sadly killed in the line of duty.
After the War, his experience as an electrical engineer brought him to Bangladesh (formerly East Pakistan) where he supervised the development of a pulp and paper mill. While there, he fell in love with calypso music, and sought, and obtained, his next posting in Antigua, the West Indies, where he moved in 1960. George worked for ten years in the sugar and oil industries in Antigua, which is where he met his beloved wife Susan (née Kent), who was visiting from England. Their daughters Eve and Joy were born in Antigua.
In 1971 George, Susan and their daughters immigrated to Cranbrook, BC, where he had been offered an engineering position. Moving from a tropical climate to Canadian winters was an adjustment, but he never regretted the move to the country where they happily raised their family. George is survived by his wife, Susan Barrett, and four children.