Airborne Engineers Association
Roll of Honour
Major (Retd) Geoff Holder - Geoff passed away in October 2013
In Memory of Geoff Holder by Gerry Taggart
The rest of the Army calls the Sappers "either mad, married or Methodist". I hope that you will see that Geoff was just a little mad, a tiny bit Methodist but very much married to his beloved and loyal Paddy.
Geoff and I served as young officers in 9th Independent Parachute Squadron RE ("The Squadron") during the late sixties.
I could talk at length about his soldiering, his free-falling, his diving, his driving and his Welsh singing.
He was the proud owner of a Triumph Herald (a car very much ahead of its time). It enabled us to enjoy the delights of the Queen's Hotel at Fleet and the Horns and Plume of Feathers at sleepy Crandall Village (now a sought-after place to live). Six of us, living-in officers lived in Redfields House Officers' Mess; a big rambling country house. It's now a prep school and was, just after the War, a pioneering tobacco farm project.
We dressed rather casually for dinner - sometimes even in tracksuits! Nearly all the Squadron officers played rugby and it wasn't unusual to see one of them sleeping in an armchair, still wearing his rugby boots, long after everyone else had retired to the bar. At first, we didn't have any pictures to adorn the huge rooms, so we borrowed some archive pictures from the Basingstoke Art Gallery. The one in the bar was of Salome with John the Baptist's head on a plate.
Our officer commanding was the legendary Mike Matthews (Later as Major General he was Engineer-in-Chief). Mike's favourite command was to describe a challenge/issue/problem and then simply say "Fix it!" Geoff and I were invited to "fix" quite a few things.
But our casual life-style didn't last; we were soon to be invaded by The HQ of The Royal Corps of Transport who needed a temporary officers mess while they rebuilt their own. So the Army requisitioned Redfields House. Of course we had to put up with their dress regulations and to adjust to their frequent formal "Corps" events.
General Geoffrey Field's abiding memory is of Geoff - just after his arrival in the Squadron - breaking his leg on a parachuting exercise in East Anglia. This greatly amused "the lads", as they were scornful of Geoff's obsession with free fall parachuting! In any case, it was a bad break and Geoff had to spend many months in plaster. Mike Stott remembers the accident too. He recalls a passing sapper shouting "Never mind, Sir, you've got another one" as Geoff lay on the ground in agony.
Although Geoff had his parachute wings from his time in 10 Para TA, he still had to do the dreaded "P" Company. He did this demanding course, with a bone in his leg still not properly fixed. He subsequently had further "metalwork" on the leg. Later he had to attend the Course at Chatham to learn how to be a sapper officer. This was the only occasion in his military career when he wore a navy blue beret! He was course leader and came top of the class.
Mike Sims, writes that Geoff quickly earned the reputation as someone who could sleep anywhere at any time. As a result we continually stole his crutches and left the poor chap to wake up and fend for himself after everyone else had gone!
Tony Roberts (later Sergeant Major of The Squadron) has this memory of Geoff. "In his very first week, Geoff took a detachment up to the Mull of Kintyre. H/e had only a 4 Tonne truck as transport. The Troop Sergeant was the only person with the fuel card and was away for the night. As the truck was nearly empty and we needed to go down to Cambletown for a few beers, Geoff was persuaded by "the lads" that the troop officer normally paid for the petrol and claimed it back in Aldershot. He paid and guess what? When he tried to claim back in Aldershot, he was laughed out of the Squadron HQ. However, he was admired and popular. So we all chipped in and paid him back".
"The lads" always made it their business to try and embarrass or get one over on the young officers but they overlooked two things with Geoff; firstly he was very clever and saw through their plans and secondly he was never aloof from them, nor snobbish.
My own memories of Geoff were based on some "events", which we shared. In Libya on a big exercise, I was asked to mark out the boundaries of the training area in the desert. With some difficulty using a sun compass, I was able to navigate to the boundaries of the hundred mile long area. However, some still live WW2 British ant-tank mines were set off, causing injury to some infantry, where we were working. I sent an urgent signal to HQ for sandbags to protect our vehicles. Geoff was dispatched and navigated one hundred miles by dead reckoning, finding us within 24 hours. I was impressed with how he made it look so easy, while I had struggled earlier.
Geoff led a small free fall parachute team. They did displays at various charity venues across Southern England. They were, of course, no competition for the Red Devils but made a great impression in the days when free fall displays were rare. Geoff's interest in this activity was all consuming and he applied his usual brainpower to solving the many challenges, which arose. Not satisfied with free-fall parachuting, Geoff decided to become an Army SCUBA Diver. He completed the seriously arduous course at Southampton, with its notorious mud-run in full dry suit.
After The Squadron, Geoff kept his red beret as he moved to be Second in Command of 131 Parachute Squadron RE(TA), sister Squadron to 9. His Officer Commanding, Ingram Murray recalls that Geoff was very easy to work with. Apparently casual, he had no difficulty coping with the special needs of the TA. It was clear that he had impressive skills and talents, and interests.
The explorer, Ranulph Fiennes asked Mike Stott, to join him on an expedition to Norway. He needed a parachute-trained sapper who could survey the movement of a glacier. Mike couldn't go, so suggested Geoff; who accepted.
The idea was for the Team to parachute onto a glacier in Norway in order to carry out their task. When they landed after the jump, Geoff was dragged by his parachute to the edge of a cliff; several hundred feet high. He was only stopped by someone's ice axe pinning his rigging lines. At the valley bottom, later, a couple of members in a canoe, in the fast mountain river, called to Geoff on the bank to throw them a rope. A loop of the rope dropped over Geoff's neck and yanked him into the white water, where he nearly drowned.
After this adventure, Geoff told Mike when he returned, 'Never, ever, recommend me for an expedition again!'
Geoff took up flying after his tour with the TA. Nigel Thursby, a Parachute Regiment Officer who trained with and flew with him tells us that Geoff was the Course Leader of Army Pilots' Course 222 (1971 - 72) at Middle Wallop.
Being a brainy Sapper Captain, wearing his red beret, he shone during the course (other students were mainly Lieutenants and Sergeants) and deservedly won the prizes. He was the only married officer on the course and was relaxed and popular. He drove a large convertible Chevrolet or similar vehicle of which he was most proud.
There was some riotous and very drunken behaviour in the Wallop Officers' Mess after the Wings ceremony and so the course was summoned by an extremely angry Commandant to explain the considerable damage to the main anti-room.
Geoff decided to parade all five officers on the course, complete with brooms. He called us to attention and reported to the Commandant that the anti-room would be returned to its former pristine condition by 1030 hours. Fortunately, the Commandant saw the funny side of our immaculate broom drill (remember, we had two Guards officers on the course) and ordered us to carry on. Geoff's coolness on parade saved the day.
After the course, Geoff went straight on to convert to the larger Scout helicopter before being posted in late  1972 to the Army Air Corps squadron in Hong Kong where he flew in support of the Gurkha Brigade.
Tony McMahon dug out his flying log-book for me, it notes that he flew with Geoff in Canada and remembers Geoff letting him have a "cabby" (Army slang for unofficial drive) in the Beaver - for old times' sake.
Ten years or so later, while I was Commanding 'The Squadron', I was in Canada on my local R&R from a project in Ontario. Geoff was commanding the Flight in Alberta. I wanted to visit Chilliwack in British Columbia, where I had previously been an instructor at the Canadian Sappers' School. Geoff wanted an excuse to fly there too. So, I had an "interesting" flight with Geoff over the Rockies in a Beaver Light aircraft. His co-pilot was a seconded RN Officer, Lt Nick Taylor. Sergeant Major (by then) Tony Roberts also travelled with us. Sadly, Nick was killed when his harrier was shot down in the Falklands.
I said "over" the Rockies but really should have said "through" them. Geoff flew low level through the passes, with mountains looming on either side. All was well until we rounded a corner and saw an opaque wall of cloud dead ahead. Geoff just used one (unrepeatable) word. That's when I learnt that a Beaver has a wide "U" Turn and mountains seem to move closer together! Geoff's subsequent, "Is everyone OK?" was delivered in his usual casual but reassuring way.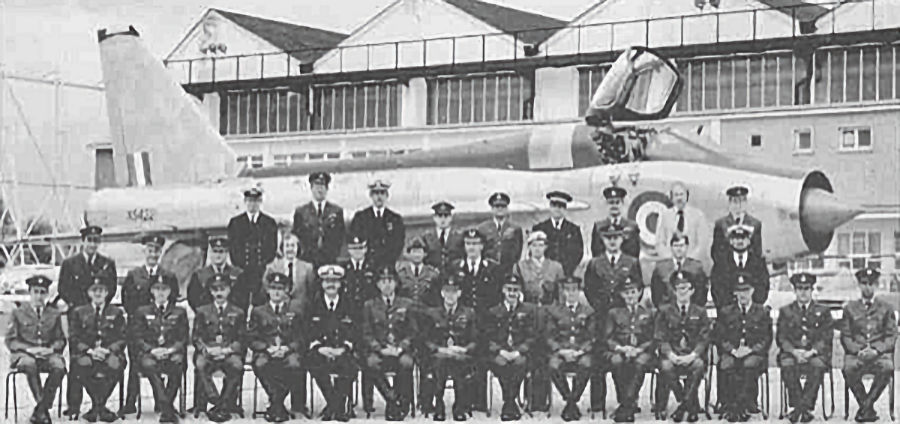 I know that the pinnacle of Geoff's personal sense of achievement was being selected to attend the Empire Test Pilots School for their demanding course. His course photograph shows him proudly wearing his RE cap-badge and the only "brown job" on the course. However, Geoff will, I know have reminded them that the very first aviation unit (before RFC or RAF) was a sapper one!
Geoff's great friend "Lippi "(Upendra Chandra Upadhay) was a fellow student and sent the following message from India,
"We met Geoff and Paddy in early Jan 78 when we joined ETPS for a one year rigorous course which made us Test Pilots. This was our first travel outside India and our first-hand encounter with the British people. In Geoff and Paddy we found excellent human beings.
To conclude on his military life - you've heard that Geoff's father worked in aviation at Shorts Rochester, that he and his mother both lived at Rochester (the Home of the Sappers) and that, while at UCL, Geoff lived in Gordon Street (named after one of the most famous sappers). So his DNA signalled that he should be an Airborne Sapper.
A true adventurer, a brainy man, a person with a good understanding of people and whose presence will be sorely missed.
Rest in peace, Geoff.