Airborne Engineers Association
Roll of Honour
Bill Lafferty 1943-2016 - "When will we see your like again?"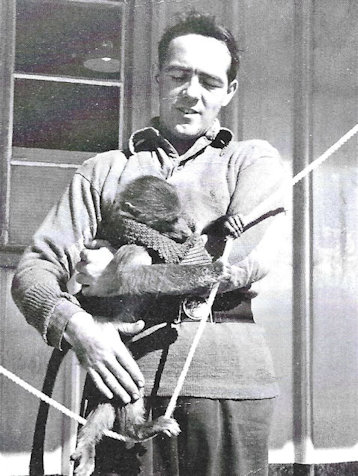 Bill Lafferty, (affectionately known as Billy), was one of 9 Squadron's characters. At any social gathering, having downed a few lagers, he would burst into song or perform his famous back bends on the dance floor. He had tremendous energy, worked hard, was always cheerful and could be relied on to get any job done At home he never sat still when there was work to be done in the house or garden. Above all he was a family man, encouraging his daughters to be active and self-reliant and participate in his love of the outdoors on long walks and camping holidays. Sadly, in his sixties, due to early onset dementia, he never really got to enjoy the retirement he worked so hard for.
Bill was born in Glasgow on 10 April 1943, the fourth of six children. Even as a youngster he showed a capacity for hard work, delivering newspapers and rising early to work with the milkman. Urged on by his father, he joined a boxing club in his teens and enjoyed success in many local competitions. When the Company he was apprenticed to moved to England, he found himself jobless and decided to join the Army. He was recruited into the Royal Engineers in 1962 at the age of 19 and completed his initial training at Farnborough. It was suggested he would make an excellent PTI due to his extreme fitness and gymnastic ability but Bill had just one goal: to join 9 Independent Parachute Squadron. It was a proud day when he successfully passed P Company and his parachute course and was presented with his maroon beret and wings. He joined 3 Troop in 1964 just in time to be posted to Bahrain for a year and subsequently saw action in the Radfan campaign. In late 1965 he met Maureen at a dance and the couple were married on 10 August 1968, moving into married quarters in Haig Lines, Church Crookham. A tour in Kenya followed at the end of that year and in July 1969 he became a father when his first daughter was born. The troubles in Northern Ireland broke out the same year and in 1970 he was off to Antrim with the Squadron. He participated in another two tours in the Province in later years. In 1971, with a second daughter on the way, Bill and his wife made a bold decision and bought their own house in Aldershot. Money was tight but thrifty Bill managed to furnish it for £50! This first step on the property ladder was one they never regretted.
An accompanied posting to 40 Army Engineer Support Regiment in Willich in 1973 was a low point in Bill's career and he always said it was no place for a fit airborne soldier. It was 1975 before he was posted back to the UK and this time to 59 Commando Squadron in Plymouth which would have given him promotion to Sergeant. However, not wishing to uproot his family again, he pleaded to return to 9 Squadron and succeeded. As a result he forfeited promotion and remained at the rank of Corporal until 1978. In 1980 he was posted to 35 Engineer Regiment in Hameln. The family accompanied him and it was a posting they all enjoyed. They especially enjoyed their caravan holidays in the Moselle valley and Harz Mountains. In 1982 Bill had the good fortune to be posted back to his beloved 9 Squadron for his last fifteen months in the Army, a rare privilege.
He was demobbed in 1984 having served 22 years in the Royal Engineers. Now a civilian, he very soon secured a job as a Stores Supervisor with Racal-Milgo, an electronics Company based in Hook. Bill rediscovered his love of motorbikes and this became his favourite mode of transport to work. After several years, and hearing that the Company was set to close, he secured a similar position at L-Teq, a satellite communications Company on Frimley Business Park. He and his wife still attended 9 Squadron reunions in Aldershot and Bill also became one of the founder members of the Airborne Engineers Association.
In 1997, the girls had left home and the couple, through sheer hard work, were now in the happy position to semi-retire. They moved to St Ives in Cornwall and found part-time work to see them through to full retirement. Bill was still very active, enjoying long walks and running several times a week with his wife. Shortly after retiring at 60, Bill showed signs of memory problems and in 2005 he was diagnosed with vascular dementia. Five years later, as his condition deteriorated and the doctors were advising residential care, a decision was made to move to Portsmouth to be close to family for support. As a result in early 2010 they moved to a brand new apartment overlooking the Solent. Sadly, Bill wasn't to enjoy this for long, as his condition worsened and he was admitted to a Care Home in May 2010. At first, still mobile, he was able to take part in the residents' social and musical events, but later, after a bad fall, he lost his mobility and subsequently became prone to chest infections. On 29 November 2016 he was admitted to hospital with breathing difficulties, was diagnosed with bronchopneumonia and died on 4 December 2016 with his family at his bedside. His funeral was held on 21 December 2016 at the South Downs Natural Burial Site and was well attended by many of his Airborne brethren from 9 Squadron. He was buried in a beautiful, tranquil woodland area to the accompanying sound of a piper playing "Flower of Scotland", a fitting tribute and send off for a well-loved man. Bill is survived by his wife Maureen, daughters Frances and Susan and grand-children Joseph and Xena.