Airborne Engineers Association
Roll of Honour
Ian Robbie - 14th May 1925 - 1st May 2003
Remembering the Late Major Ian Robbie by Maurice Richardson
Ian was my Troop Officer in 147 Airborne Park Sqn in Palestine. When the Division disbanded in early '48 Ian came home with the Sqn, I along with others was posted to 1st Airborne Squadron, and were the last unit to leave Palestine.
In the early '80s Ian phoned and asked if I could help with information on the various operations the Park Sqn had carried out. Over the years we have exchanged letters and photos and we used to have quite long telephone conversations about old times. We spoke of the times that we had to go to Acre jail and carry out searches and do a few welding repairs and how we fitted up lighting and search pens at Haifa when illegal immigrant ships were due to arrive. When the two illegal ships were diverted to Famagusta in Cyprus we were sent to fit up light and to weld up the search pens.
We met up on several occasions on Airborne Forces Day and used to have a good natter.
Ian was an Officer and a Gentleman and to me he was a very good friend. He will be sadly missed by all who knew him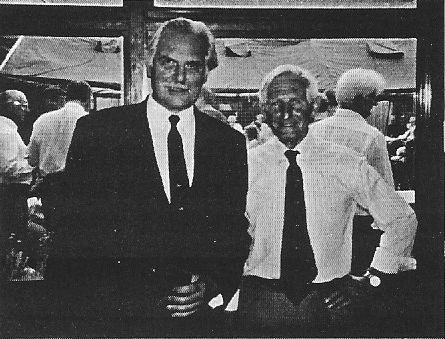 Ian & Maurice at one of the Airborne Forces weekends
---
From the AEA Journal August 2003
Ian Robbie, the Airborne Engineer's Association's link-man with 147 Airborne Park Squadron personalities, died on 1st May 2003.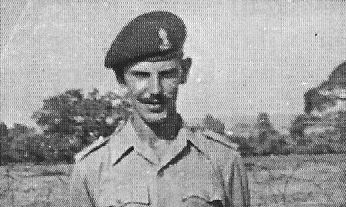 Ian joined 6th Airborne Division in Palestine in early 1947. He was posted to the newly re-designated 147 Airborne Park Squadron where he took over the Field Stores Troop. His initial training was glider oriented as he only completed parachute training at Upper Heyford after the Division returned to the UK. He renewed his parachuting skills with the Far East Parachute School RAF Changi in 1956-9.
Ian served in the Regular Army until December 1961, holding a variety of regimental and works appointments. He also commanded 238 Corps Field Park Squadron (TA), based at Paisley in Scotland from 1963 to 1967.
Contact with 147 Squadron personnel always attracted Ian and he has tried to 'keep tabs' on the 147 chaps — not an easy task! Incidentally, over the years, Maurice Richardson has nobly assisted Ian in this respect.
Maurice and Ian shared many memories of the operations to board the "Pan York" and the "Pan Crescent" on the "high seas" and dock the thousands of immigrants at Famagusta Cyprus on New Year's 1947 plus the first 2 or 3 days of 1948.
In later life, as a businessman Ian visited Israel several times. He usually called at 147's old base; St Jean's Airfield, Acre. On the last occasion the water tower area housed an Israeli Mobile Radar Station. He also took in Haslar Hak Carmel, AT Tira, Nahariya, Azzib, Jaffa, Tel Aviv and Mettula — always managing to meet locals who remembered St Jean's MESA and the divisional battle school — plus the helpful dozer/grader operator from John Collyear's Mechanical Equipment Troop.
To his widow Jane, son Alistair and daughter Jennifer, we offer our sincere sympathy.